Gages
Swanson Tool Manufacturing offers an extensive inventory of standard thread gages, titanium nitride (TiN) coated gages and plain cylindrical gages.
Gages are extremely important in guaranteeing the quality of your products. Fixed limit gages are used to check functional acceptability of your parts and to ensure they are within designed tolerance limits.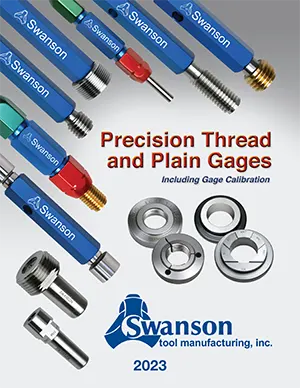 About Our Gages
Swanson Tool manufactures many different types of high precision thread gages, both to American standards and to many international standards. Our gages are manufactured by skilled craftsmen on state-of-the-art equipment, and our highly trained inspectors guarantee the accuracy and precision in our temperature and humidity controlled laboratory. We utilize the highest quality tool steels and high-speed steels for our products (HSS for its Titanium Nitride coated gages), and have a large inventory of standard gages in stock ready for immediate shipment. Our knowledgeable sales and engineering staff are ready to assist with your special gage applications and technical questions.
Gage Maintenance
Gages should be handled and stored properly for maximum life. However, gages do wear and should be calibrated periodically to ensure that they are still within gaging tolerance. Swanson Tool has full calibration services and an extensive inventory of thread setting plug gages for inspecting thread ring gages. If a thread gage is found out of tolerance, we can either recondition it or replace it (typically only thread rings can be reconditioned).